A dedicated server is that server which is entirely dedicated to host websites or applications of a single individual or organization. It provides maximum resources and best performance, but it's also the most expensive type of web hosting server. Since you are investing your money, you should definitely ensure that you get the best dedicated server from the best dedicated hosting provider.
In India, there are few good dedicated server providers as dedicated server demands high investment and high-end technology and not every web hosting provider can afford them. To help you find the best among the dedicated hosting providers in India, here I have made a comparative analysis of India's top three dedicated server providers.
For this analysis, I have used some basic parameters related to dedicated servers like plans & pricing, technical features, server uptime, server security & backup, technical support and additional features.
Let's have a look on how these top dedicated server providers fare on these parameters.
Plans and Pricing – The dedicated server plans at ZNetLive are self-configurable i.e. you can yourself select the resources that you require and need not select them from a fixed plan. Also, you can select from a big range of offerings that includes different types of processor, RAM, storage disk, etc. and even select their capacity according to your needs.
Additionally, I have found that ZNetLive's dedicated server plans are cheapest in the whole industry and their pricing starts at Rs. 6110/month.
Technical Features – ZNetLive has incorporated the latest and most advanced processor (Dual Intel Xeon E5-2620 V3) and RAM (DDR4 ECC) to provide the most powerful dedicated server configuration and widen its offerings that already contain powerful processors like Dual Intel Xeon5620, Intel Xeon E3-1230 and more. In addition to this, it provides the following high-end features.
 Enterprise SATA or SSD storage
 cPanel or Plesk control panel
Server Uptime – ZNetLive provides a guaranteed 100% server uptime on its SLA and it has a record of providing 100% monthly network uptime to its customers.
Server Security & Backup – ZNetLive has high security measures in place to maintain your server and website security. These measures include DDoS protection for complete server level protection and CSF firewall that protects both the server and your website.
It takes server backups on a daily basis and even provides 20 GB free NAS backup to store the backup of your data and files.
Technical Support – ZNetLive provides a 24x7x365 technical customer support and solves all the customer queries with a very quick response time and friendly approach. There are three channels – email ticketing, phone and live chat, through which a customer can reach its technical support.
Additional Features – ZNetLive also provides many additional things with its dedicated servers bundled as free value added services. These include an SSL certificate, Google AdWords credit worth Rs. 2500, Enterprise Email, Malware scanning tool, Phishing compromise alerts, Email spam protection and more.
Why Choose ZNetLive?
ZNetLive provides everything from cheap plans, best dedicated server infrastructure, highest server uptime, best security, support and even many additional features. I recommend ZNetLive as the best bet for your money when it comes to dedicated servers.
Plans and Pricing – GoDaddy offers a total of five different dedicated server plans, their configurations are fixed and you cannot configure them as per your needs. But, the plans are well-designed and cater to the needs of most customers.
The pricing is comparatively higher than ZNetLive and starts at Rs. 8999/month. It even charges an additional fee for fully managed plans.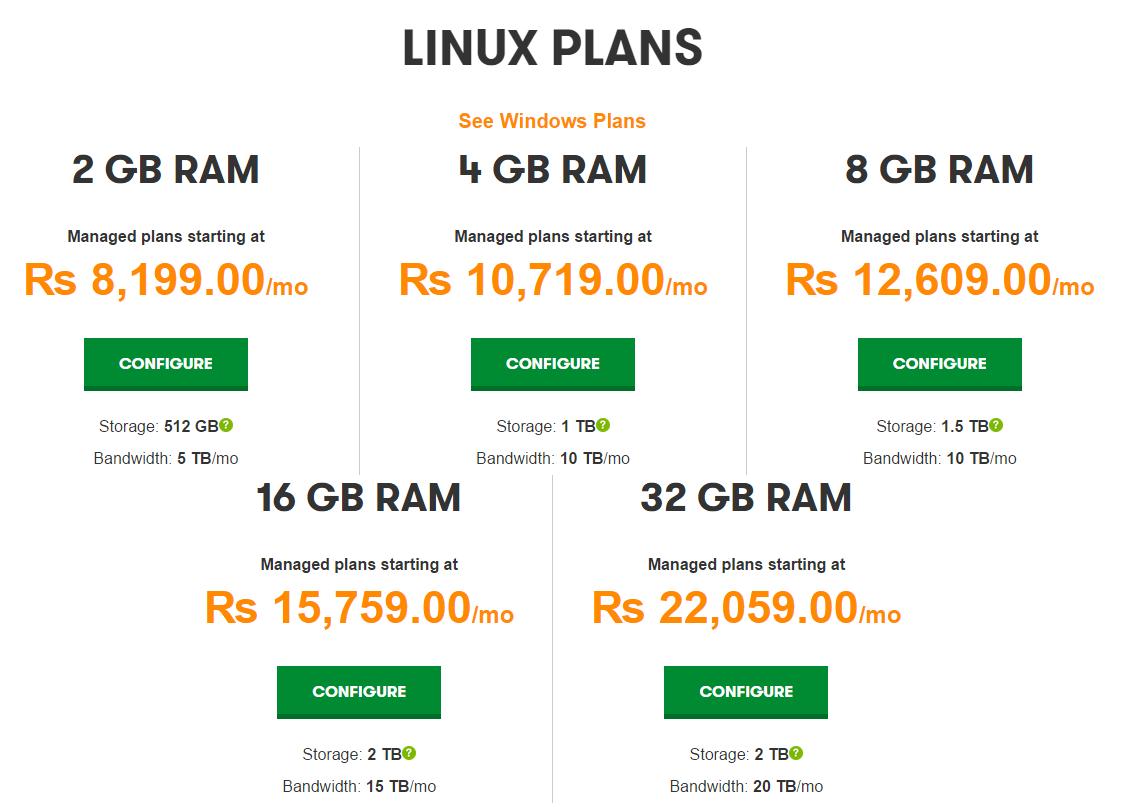 Technical Features – GoDaddy's dedicated servers are very much advanced with state of the art dedicated hosting infrastructure. Some of the technical features of GoDaddy's dedicated server plans are listed below.
Latest generation Intel Xeon processors
Server Uptime – GoDaddy provides a guaranteed 99.9% server uptime and has a clear track record of maintaining its promise.
Server Security & Backup – GoDaddy provides many security features that include DDoS, SiteLock for managed and fully managed plans and different levels of monitoring for un-managed and managed plans. But, it provides backup and restore for managed plans only.
Technical Support – GoDaddy provides very good technical support with 24×7 availability through phone, ticket email and chat.
Additional Features – GoDaddy doesn't provide any additional features with its dedicated servers.
Why Choose GoDaddy?
Go with GoDaddy if quality is your priority. It provides best technical features, great support and high server uptime. The only con with GoDaddy is its highly priced plans.
BigRock
Plans and Pricing – BigRock offers four different dedicated server plans, but they are not self- configurable like that of ZNetLive and thus you do not get a customized plan for your needs.
The plans at BigRock are priced in the mid-range i.e. they are cheaper than GoDaddy's but expensive when compared with ZNetLive's, and start at Rs. 6999/month.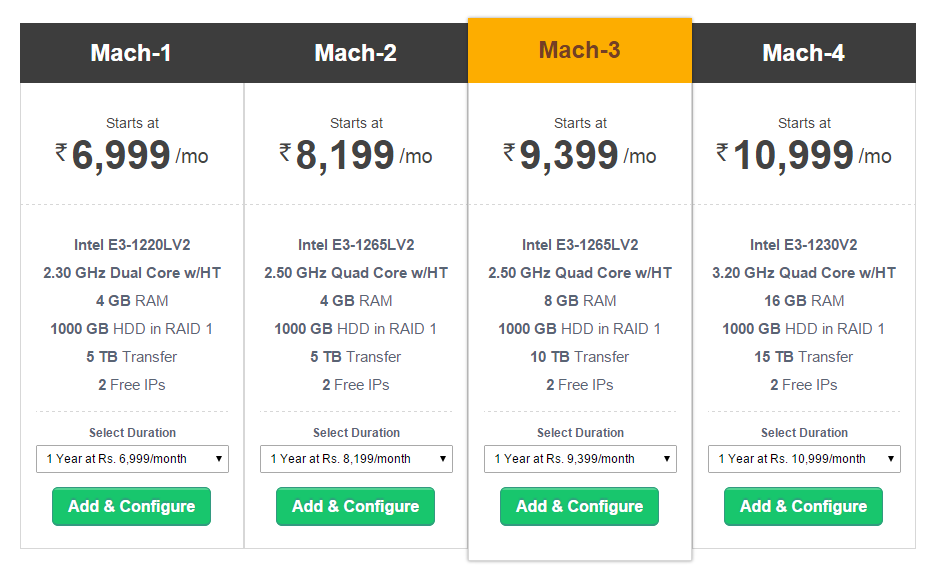 Technical Features – BigRock offers good dedicated hosting infrastructure than most providers, but when compared with ZNetLive and GoDaddy, it lacks that high-end technology. It is one of the major reasons, it is ranked third in this list. Its major technical features are as follows.
 cPanel with WHM control panel
Server Uptime – BigRock guarantees a server uptime of 99.9% and it mostly fulfills this promise.
Server Security & Backup – BigRock does not provide DDoS protection like ZNetLive and GoDaddy, and its security measures seem quite obsolete. So, security is a bit of concern with BigRock.
Technical Support – BigRock offers good technical support with 24×7 availability, is reachable through two modes- phone and chatting. The support is at par with standards.
Additional Features – In free additional features, BigRock provides 2 free IP addresses with each dedicated hosting plan.
Why Choose BigRock?
BigRock provides some good reasons to go with it, like economical plans, high server uptime and good technical support.
Conclusion
As a final report to my analysis, I recommend these top three dedicated server providers in the following order.
ZNetLive > GoDaddy > BigRock
The reason for this must be clear from the above analysis. There is no match for ZNetLive on the overall score and GoDaddy is definitely a far better option than BigRock.
ZNetLive also provides great Virtual Private Servers with super-solid server hardware and best security features at a very economical price.
That's all about Dedicated Server Providers in India. If you think we have missed any other great Dedicated Server provider in India then do let us know via comments. Do share this post with your friends via social media and spread the love!:)